WHAT:   Novice Lessons @ COOK Park
WHEN: SUNDAYS June 6th thru August 29th 
TIME: Noon to 1 pm
SIGNUP: (click the box below)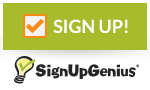 On Sunday, June 6th, and continuing every Sunday through August 29th, the Rochester Area Pickleball Association (RAPA) will be hosting novice lessons at Cook Park from noon to 1 pm.
If you haven't played pickleball before, register for 1 of 12 dates and come learn the game!  If you have played before but still consider yourself a newbie-this would be an awesome opportunity to meet other players who are also beginners, and play some games after the novice lessons are over at 1 pm.
There is no fee for summer lessons and you do not need to be a RAPA member to participate- so pass this onto your friends that have been wanting to try out the game!
Equipment will be provided but bring your own paddle if you have one.
Please wear comfy clothes, and tennis shoes and bring water/beverages.
 Link for Novice Lesson Attendees: